Ars Veneficium : Usurpation Of The Seven (2020)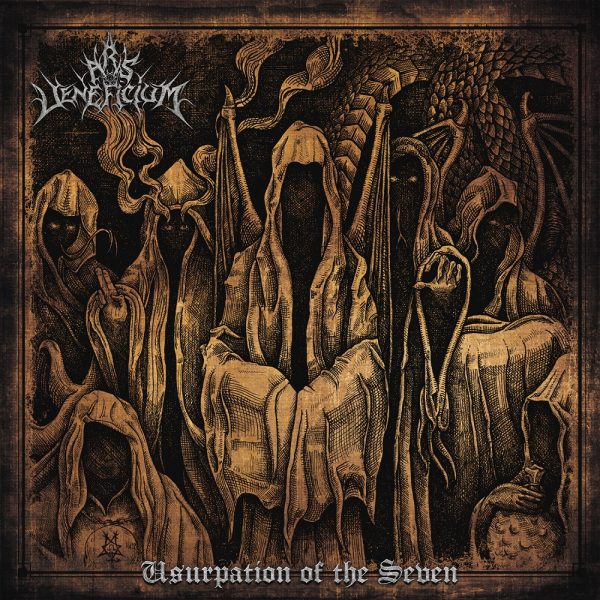 Ars Veneficium is a Belgian black metal band formed in 2013 with the current lineup consisting of guitarist Ronarg (Antzaat, ex-Eratomania), vocalist S. (Endless Sorrow, Hammerstorm, ex-Drowning, ex-Fancor, ex-Lost Inside, ex-Means to an End, ex-Wounds, ex- ||| _-_ |||, ex-Eratomania, ex-Lifeless Within, ex-BAH), guitarist Archcaust, drummer Norgameus (Murder Intentions , ex-Vagevuur) and bassist Y. (DarkestMind, Gotmoor).
The band's first long-running title, "The Reign of the Infernal King," was released in 2016 and marked the band's name with its fast blasts, chaotic madness and occult atmosphere.
Today, I have the honor to share a few words about his successor, "Usurpation Of The Seven", which is expected to be officially released quite soon, on February 28th, through Immortal Frost Productions label, and is now available for order in digital format and on physical media (limited number of CDs and several types of 12 "vinyl).
The album begins as if you are entering a dark crypt, at least six steps underground, and in it, obfuscate chanting, barely recognizable in the dark , obscure  monks are waiting for you , longing for the reviving of an occult totem, surrounded by strange light.
A ritual appeal to the depths of the unknown.
The short intro "Hymns of Chaos" is a true delight that keeps you quiet for a few minutes … until you catch up with "Wrath of Life".
The second song goes back strongly to what I've already heard from Ars Veneficium – a powerful, chaotic,primal black metal. The band's trademark – fierce blasts and wild, restless vocals ripping you off the earth, are presented here with full force, complemented by a brief and very beautiful guitar solo as a distinctive element.
"Devour The Light" is a call to Leviathan, a call to darkness, an urge to conquer even the quietest shimmering light.  The rhythm of the song is divided into several parts, combining both the traditional brutally powerful sound of the band, backed by raw instrumentals, and parts with more melodic sound , masterfully combined with various elements.
"In Sin, Bred by Madness" begins with a very beautiful and promising intro, fast-paced by the total power of S.' vocals and fierce instrumental. In this song – in the riffs, drums and vocal performance, I find a certain dose of Darkhrone, which surprised me a lot. A very beautiful blend of old school black metal with some  new influences.
"De Luiaard Heerst", starring V. Priest, is a song that caught me off guard  on its premiere few days ago.
This song is completely immersed in the occult, mysterious atmosphere of the album and in my opinion it is no  coincidence that it is placed right at the heart of it.
The furious impulses of S., alternating with V.Priest's mantras, emerging from the bottom of Hell, complement each other perfectly, creating a piece that touches not only your senses but also your mind.
The poem "Η Πόλις" by Κωνσταντίνος Π. Καβάφης is presented here in an incredibly original and beautiful way.
The next song, "In The Fires Of Eternity", is the logical continuation after entering the abyss that the band had previously introduced us to.
The piece presents a true and powerful worship of the greatness of Lucifer, of his power and the light he bears, of his true nature, following  the typical Ars Veneficium fierce and chaotic  style .
"7" is an instrumental track that once again shows how much Ars Veneficium has evolved so far – brilliant guitar riffs, perfect drums and bass … this song represents a very interesting game between pace and gravity .
A track whose guitar tabs I would definitely like to own.  A dizzying creation, very atmospheric and strong. I only regret that it did not last longer.
In "Under The Wings Of Beautiful Darkness" the cult is complete. Many different elements combat the traditional chaos of Ars Veneficium, creating a picture of true power and omnipresent dominance of darkness over light. Raw black metal with inhuman energy.
"The Flame Of Endless Yearning" is the epitome of "Usurpation Of The Seven".
Chaos, a sea of sinfulness and a deep dive into the depths of our dark nature…
"Usurpation Of The Seven" is a wild and chaotic return of Ars Veneficium, complemented by many different elements that add a new level of maturity to their sound .
The title clearly shows the desire of the performers to search, to experiment from an artistic point of view.
All the elements we love about Ars Veneficium's work are present, but this time around, they seem to have a lot more charge, emotion and technical appeal.
In addition to the chaos and harshness, there is also a strong atmosphere that can make you shiver even more than before.
Evolved sound, a primary and strong appeal to the usurpation of the seven!
Once again, I am convinced of the quality work of Ars Veneficium and the heart they put into it.
Be sure to hear the album when it's released & support the band!
Rating: 10/10
Favorite tracks: There are elements in each song that I liked, but maybe three of them stood out more than the others – "7", "Under The Wings Of Beautiful Darkness" and "De Luiaard Heerst".
The last released song from the album, "De Luiaard Heerst", in case you missed it :
Useful links , if you want to follow the band:
FACEBOOK: https://www.facebook.com/arsveneficiumofficial
Spotify: https://open.spotify.com/artist/2LjtInZa41QOVSjO0AnU83
Order "Usurpation Of The Seven" here:
http://smarturl.it/usurpationoftheseven
<- ВЕРСИЯ НА БЪЛГАРСКИ ЕЗИК НА СТРАНИЦА 1 

Mother of The Void.
Блек метъл (atmospheric, blackgaze, cosmic, raw), дет метъл, дуум метъл,  shoegaze, ambient, darkwave, пост-рок и рок ентусиаст.